The 1st International Workshop on Legal Intelligence
Held in conjunction with SIGIR 2020(LegalAI@SIGIR2020)
News: The workshop video is uploaded for free downloading! We had a great workshop! Thank you very much for joining us! video
Welcome to Legal AI!
In the digital era, information retrieval, text/knowledge mining, and NLP techniques are playing increasingly vital roles in legal do- main. While the open datasets and innovative deep learning methodologies provide critical potentials, in the legal-domain, efforts need to be made to transfer the theoretical/algorithmic models into the real applications to assist users, lawyers, judges and the legal professions to solve the real problems. The objective of this work- shop is to aggregate studies/applications of text mining/retrieval and NLP automation in the context of classical/novel legal tasks, which address algorithmic, data and social challenges of legal intelligence. Keynote and invited presentations from industry and academic will be able to fill the gap between ambition and execution in the legal domain.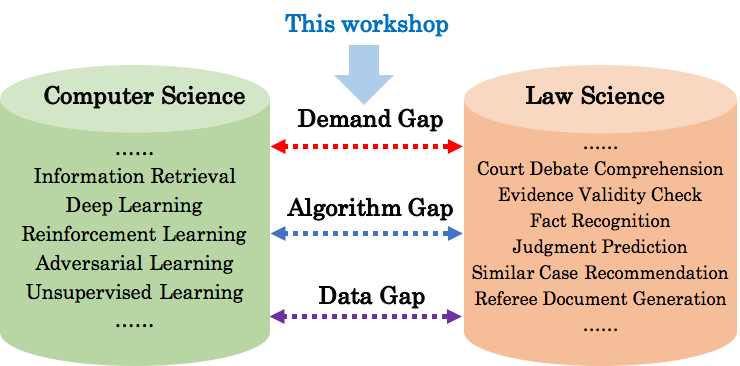 WORKSHOP PROGRAM
8:45 - 9:30AM -- Keynote 1: Legal Intelligence Research in Industry

Yating Zhang

, Changlong Sun
9:30 - 10:15AM -- Keynote 2: On the Importance of Domain Knowledge for Computational Law

Douglas W. Oard

Bio:

Douglas W. Oard is a Professor at the University of Maryland, College Park (USA), with joint appointments in the College of Information Studies (Maryland's iSchool) and the University of Maryland Institute for Advanced Computer Studies (UMIACS). His research interests center around the use of emerging technologies to support information seeking. Additional information is available at http://terpconnect.umd.edu/~oard/.
CALL FOR PAPERS
The workshop will include original contributions on theories, methodologies, and applications of legal text/data mining, legal document retrieval, machine learning, legal knowledge graph generation/mining, natural language processing, and legal knowledge representation in the legal ecosystem. The scope of the workshop includes, but is not limited to, the following areas:
Legal information retrieval and related statutes/precedents detection
Legal knowledge graph creation and application
Legal case representation learning
Legal dialog and legal QA system
Legal document, e.g., verdict, generation
Court debate mining
Penalty prediction
Legal machine reading comprehension
Legal (open) dataset generation
Evaluation for legal tasks
Societal and ethical challenges of legal intelligence
Legal AI application and system
Computational social justice
Human factor for legal AI
We especially encourage workshop participates use the open le- gal datasets, e.g., Artificial Intelligence for Legal Assistance (AILA 2019) and CAIL 2019, and they can also create and share the publicly available dataset to motivate other scholars to further investigate this important domain.
IMPORTANT DATES
Paper submission (Long, Short, Demo):

June 12, 2020

Notification to authors:

July 7, 2020

Camera-ready:

July 15, 2020

Workshop date:

July 30, 2020
SUBMISSIONS
We welcome original research papers that present novel research ideas and we encourage submissions of greenhouse work, which present early stages of cutting-edge research and development. Position papers regarding work on the beginning, demo, and industry papers are also welcome.
All papers must be original and not simultaneously submitted to another journal or conference. The following paper categories are welcome:
Novel research papers in full (up to 8 pages) or short length (up to 4 pages)
Work-in-progress papers (up to 4 pages)
Demo papers (up to 2 pages)
All submissions should be formatted according to the official ACM "sigconf" template format.
Papers must be submitted before deadline via EasyChair at this Link
ORGANIZERS
Changlong Sun | Alibaba Group | China
Yating Zhang | Alibaba Group | China
Xiaozhong Liu | Indiana University Bloomington | USA
Fei Wu | Zhejiang University | China
STEERING COMMITEE
Xiaozhong Liu, Associate Professor at School of Informatics, Computing, and Engineering, Indiana University Blooming- ton
Changlong Sun, Senior NLP algorithm scientist, Alibaba DAMO Academy
Yating Zhang, NLP algorithm scientist, Alibaba DAMO Academy
Fei Wu, Professor at School of Computer Science, Zhejiang University
top